Those with erectile dysfunction are often incapable of achieving an erection when the moment is right. To resolve this, there are many treatments available tailored to the purpose of producing an erection in minutes – one that is suitable for sexual intercourse. For men who require an immediate sexual response, board-certified urologist Dr. Tariq Hakky offers Trimix injections to be self-administered before engaging in sex. At his Atlanta, GA urology practice, he will work with you to determine the appropriate dosage required to achieve an erection that is sustainable. He or a member of his skilled team will teach you how to correctly perform the injection and answer all of your questions. Call and schedule a private consultation with Dr. Hakky at Atlanta Cosmetic Urology to see how Trimix penile injections can combat your ED to generate responsive erections.
Compounding ED Med Injections
Bimix
Bimix is a combination of two combined drugs (Papaverine and Phentolamine) that act as an anti-erectile dysfunction medication. This injection is self-administered minutes before sexual intercourse to improve the firmness of your erection.
Trimix and Super Trimix
Trimix is an ED injectable medication prescribed by a trusted provider, such as Dr. Hakky, which is compromised of three drugs to deliver optimal results. The three drugs used in the composition are Papaverine, Phentolamine, and Alprostadil. Together, these medications can serve as a potent injectable to address erectile dysfunction. Super Trimix has the same amount of Papaverine but a higher dosage of Phentolamine and Alprostadil.
Dr. Hakky or a member of his team will provide you with the information and education on how to appropriately inject your medication so that you are able to administer the drug as directed.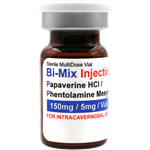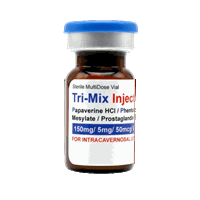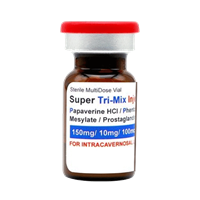 Reviews
"Dr Hakky is the best around ! After having a major car accident in 2007, I had very bad nerve damage after my pelvic surgery and ED was a serious issue! I tried other options for years and We talked and the Titan implant and it was the very best option! Awesome Doctor, and Fantastic work ! My life has completely changed for the better! I'm a brand new man. I highly recommend Dr Hakky ! He treats all of his patients with respect and the best knowledge you will receive about whatever issues you are having! He will definitely get any issues squared away !"
- L.T. /
Google /
Apr 24, 2021
"My husband and I heard about Dr. Hakky through a close family friend. We went in for a consultation and he was nothing but respectful and professional in every sense. He made my husband feel comfortable which is extremely rare being that he absolutely hates seeing ANY DOCTOR lol! It was a match made in heaven and to this day my husband still goes into see him! He does not trust anyone else! He's the best "dick doctor" in GA!"
- S.S. /
Google /
Mar 22, 2021
"Dr. Tariq Hakky is one of the best urologists I have had the pleasure of meeting. He is knowledgable, well informed, friendly, and above all a true professional. I received a penile implant and he performed a great surgery. I had very little pain and almost no bruising at all. I couldn't be happier with the result. Highly recommend him if you're suffering from ED and are looking to get an implant."
- M. /
Healthgrades /
Dec 29, 2020
"Excellent work."
- J.V. /
Google /
Jul 28, 2020
"My wife and I have been struggling with fertility and we were recommended to Dr Hakky. He was super detailed and really took the time to understand our issues. His ability to listen and problem solve is worth the extra driving to his office."
- C.C. /
Google /
Jul 14, 2020
Previous
Next
During your one-on-one consultation with Dr. Hakky, he will ask you about your medical history, lifestyle, and medications you are currently taking to assess your candidacy for penis injections. During this conversation, he will ask what other interventions you have tried and if you are currently using anything to assist in arousal. Your comfort level with giving yourself an injection will also be taken into consideration. Once Dr. Hakky has all of this information, he can make a decision if injections are right for you.
Trimix injections are self-administered. To administer the injection yourself, you will need to grasp your penis at the head and hold it straight. If you are not circumcised, you should pull back the foreskin to properly place your injection inside of the erectile tissue. From there, you will clean the injection site in the middle third of your penis on either the top-left or top-right side. Switching up the location of your injection site with each dose should prevent scarring. Avoiding all veins, touch the syringe to the skin and quickly slide the needle into your penis. Once the medication has been dispensed, pull the needle out straight. Make sure to apply pressure to the area for several minutes, and dispose of your syringe safely.
Before you are prescribed Trimix penile injections, Dr. Hakky will ask you about all of the medications you are currently taking to decrease the likelihood of there being a negative interaction. Typically, you should achieve an erection 5 – 20 minutes after administering your injectable. During your consultation, you will be carefully instructed about how to properly perform your injections. You will also be given a treatment plan to follow consisting of the dosage that Dr. Hakky has selected, as well as details involving how to space out your self-treatments. It is pertinent that you do not modify the dosages on your own. If you think that a dose change is suitable, this can be discussed during your follow-up appointment.
About Priapism & Scarring
Some of our ED injection patients may experience priapism, which is a prolonged erection for four or more hours after intercourse. When the blood is not released after sexual intercourse — this can lead to a painful erection that will need immediate medical attention to avoid the scarring of your erectile tissues and advanced penile dysfunction in the future. Dr. Hakky recommends that all of his patients that experience priapism to go to the emergency room right away if it happens.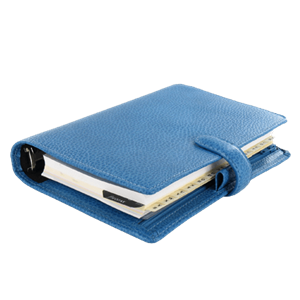 Learn More About ED Injections
If you have trouble generating an erection when the time calls for it, board certified Atlanta, GA urologist Dr. Hakky can recommend Trimix. This potent injectable is crafted with three drugs that all work together, allowing you to achieve an erection mere minutes after its administration. Contact Atlanta Cosmetic Urology today to schedule a one-on-one consultation with Dr. Hakky. From there, he will use his expertise to decide if the penile injectable Trimix could be a beneficial addition to your ED treatment.
Related Treatments